EAMUS AND SUZANNE are a married couple who, since 1991, have played for weddings, banquets, school ceremonies and programs, memorial services, community festivals and other events ~ and have consistently endeavored to make their music and decorum appropriate to each occasion. As the performance of music is their vocation and love they continually work on new repertoire, sense of ensemble, and awareness of audience.



ACH PERFORMANCE IS for a unique occasion. Thus, in addition to traditional Scottish and Irish music, the Duo plays a wide array of ceremonial and liturgical music, including pieces that can be played with church organ, and military music appropriate to each of the Armed Forces. Musical expression is enhanced by artfully arranged harmony parts and often unusual requests can be arranged, such as songs that have special meaning to a particular audience.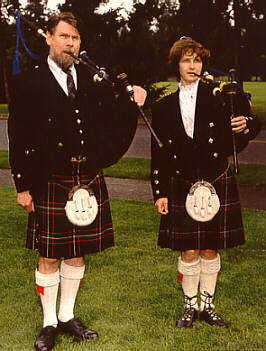 EAMUS JOINED THE Army as a piper when he was seventeen. Later, he joined the United States Air Force Band in Washington, D.C., where he was a member of the USAF Pipe Band from the time of its inception as a distinct component of the Band in 1962 until its disbandment in 1970.



UZANNE, IN ADDITION to being a piper, has many years of classical music training. She has a degree in music from Montana State University and formerly made her living playing and teaching the flute.



OR OCCASIONS THAT require a subtler sound, or where a distinct diversity of tone and volume can enhance a performance, Suzanne and Seamus also play smallpipes and flute, Irish whistle and uilleann pipes.


ENJOY LISTENING TO OUR MUSIC ON MP3 FILES

Danny Boy (Derry Air)
(2,468 kb)

She Moved Through the Fair and the Rose of Tralee
(1,720 kb)

It's A Grand Old Flag
(1,193 kb)

Calliope House and The Lady in the Bottle
(1,617 kb)

Si Bheag, Si Mhor, and Harvest Home Hornpipe
(2,615 kb)

Scotland the Brave, Auld Land Syne, and Johnny Scobie
(1,826 kb)